As a follow up to the government subsidized project for small farmers a few years before, a co-operative of date farms in Southern Tunisia bought 16 NPI water tanks for the irrigation of date palms. The date palms nurseries are located in a strip of 2,500 hectares of along the border with Algeria, in a desolate area in the Northern Sahara.
In the early 1970s, an enormous underground aquifer was discovered in this part of Tunisia. In the years that followed, several oases were created to develop agriculture in this area. In this area a strip of 2,500 hectares of crops including (date) palms was created.
The crops and thousands of palm trees are irrigated using a sophisticated system fed by the central water storage, which consists of dozens of metal water tanks. Relatively low tanks with a wide diameter were chosen; 16 tanks of 19,14 x 1,52 meter. The 41 water tanks of both phases of this project allow the production of around 20,000 tonnes of dates annually.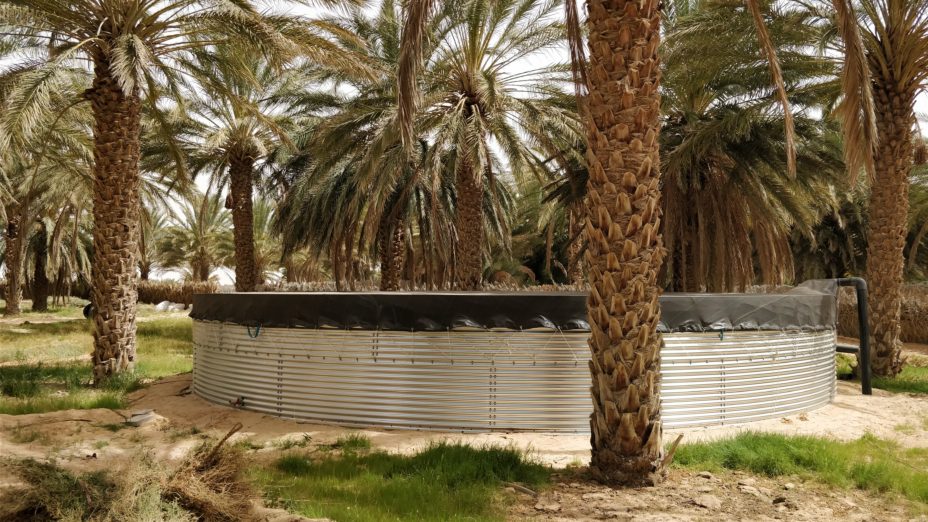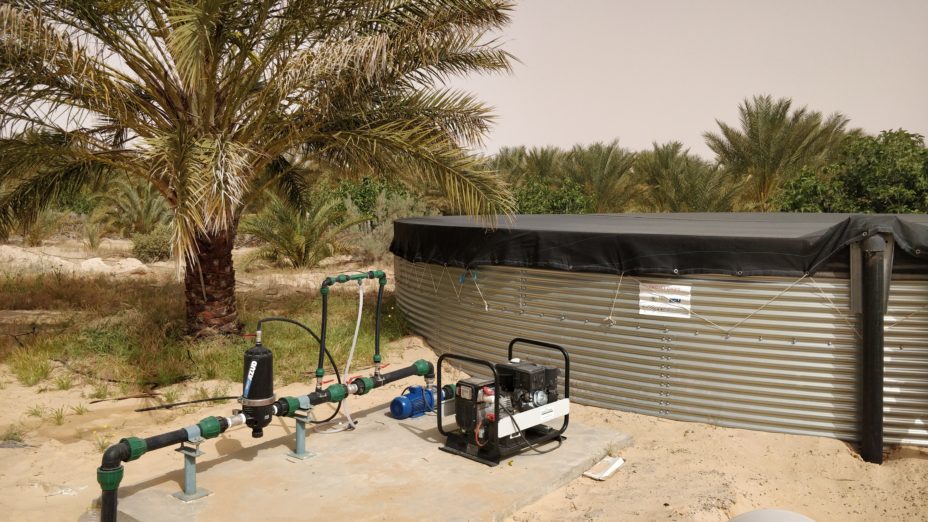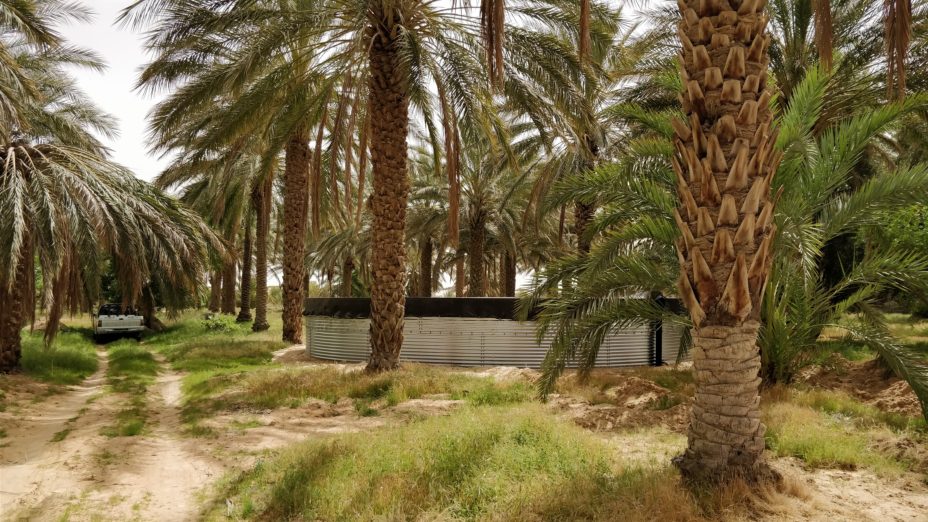 NPI recently produced and supplied 5 tanks for a poultry factory in Bangkok. It is essential that this poultry factory has a constant supply, of accessible, good quality water for the factory. Water is costly and scarce and recirculation is the ultimate solution, offering major savings. Moreover, to ensure good quality water, the water should be treated effectively.
Therefore this poultry factory had a water processing system installed, fed by 5 NPI tanks. In two 1000 m3 tanks, measuring 18,21 x 3,81 meters, water from a natural source is being collected. The processed water ends up in three 192 m3 tanks, measuring 7,32 x 4,57 meters. The water treatment capacity is 340 m3 per hour, running 24/7.
For the three smaller tanks NPI delivered the steel roofs. The galvanised steel roof is one of our most robust covering systems and is an excellent way of fully covering a water silo. It is the perfect closing system for drinking water and other liquids that require protection from contamination, evaporation and different weather conditions.
The steel roof is easy to install by linking the lightweight panels together. The steel roof is provided with two hatches as standard to allow access to the tank. We deliver galvanised steel roofs for tanks  with a diameter of up to 14.63 metres.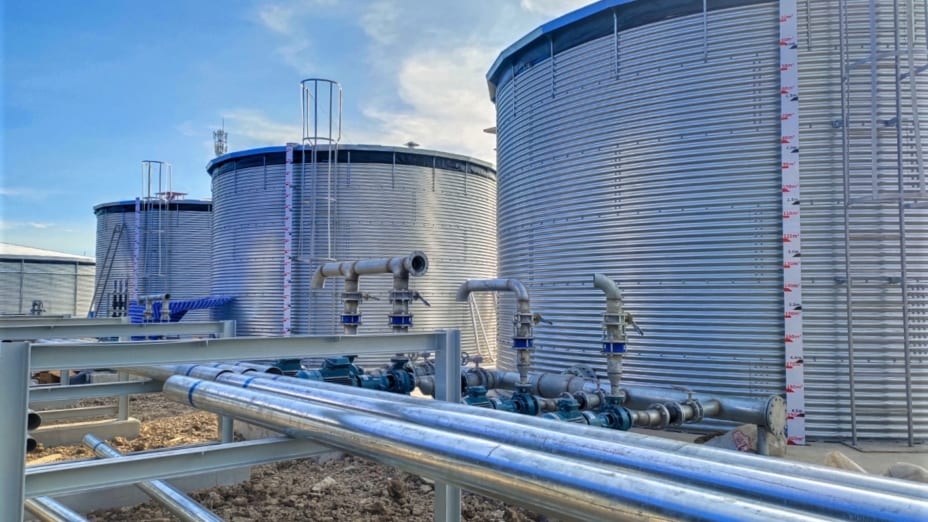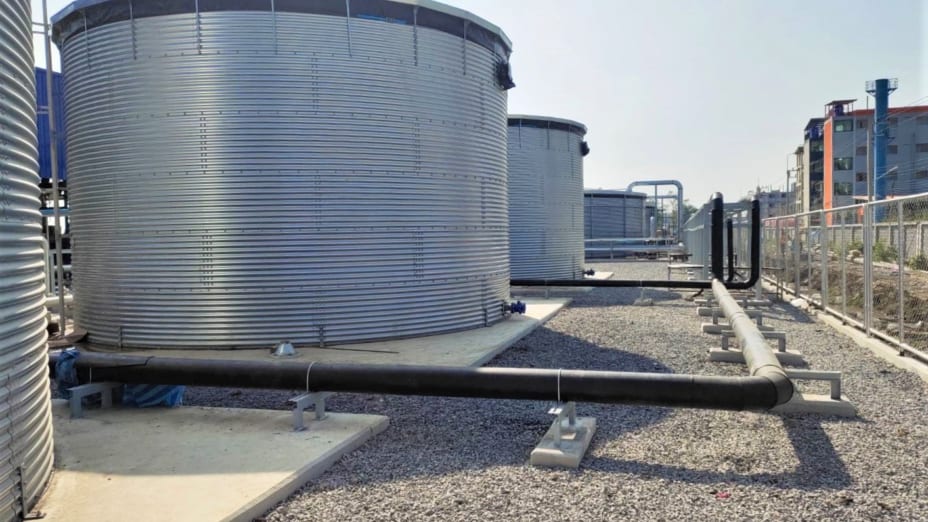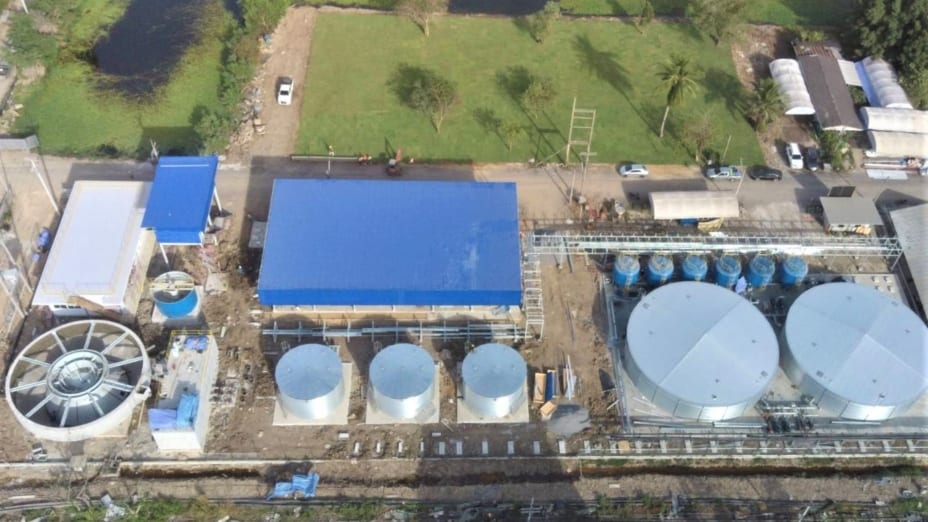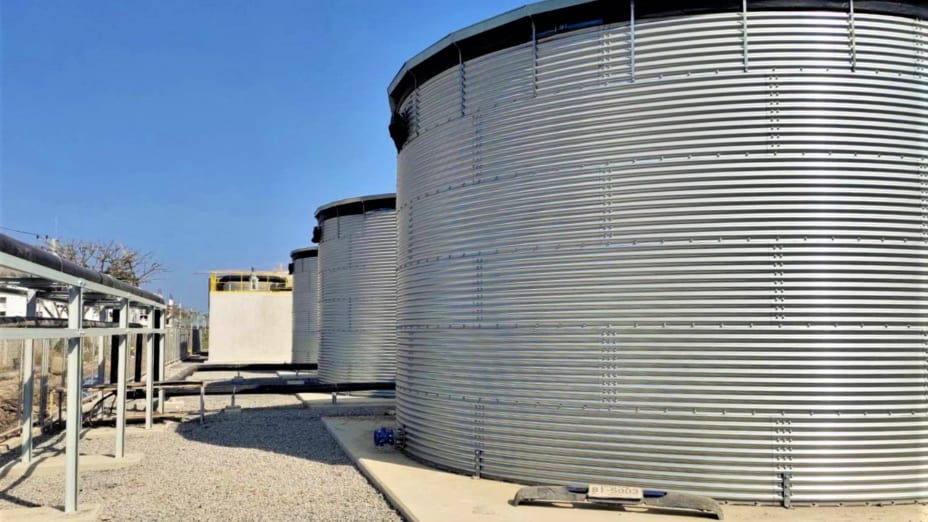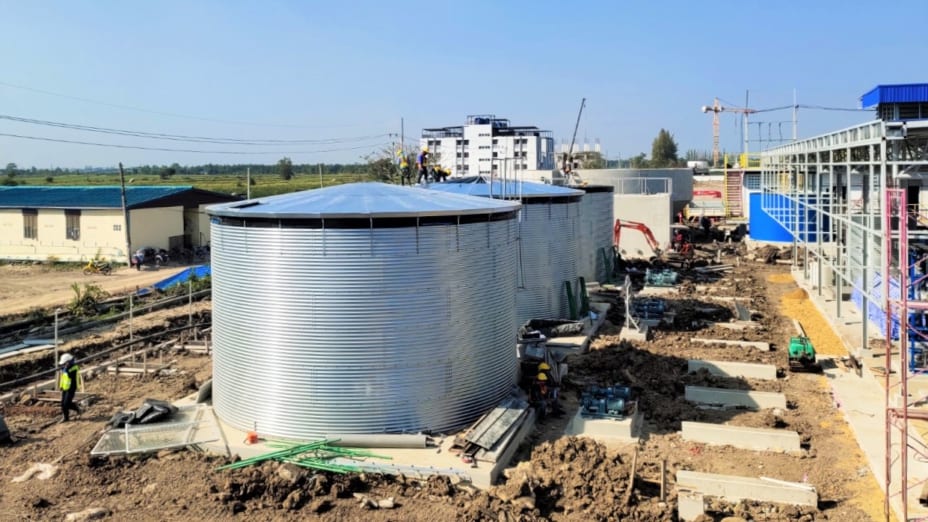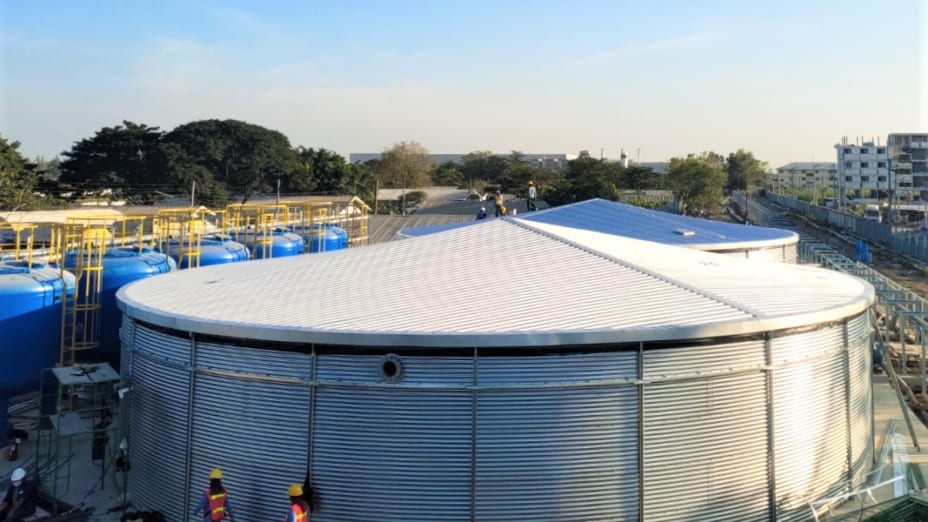 It is cheaper to have livestock drink rainwater than to use the public water supply. However, this requires a cost-effective way of storing the water. Our metal water storage silos proved to be such a solution for one of our clients in Zimbabwe.

NPI supplied five tanks to this client in Zimbabwe via a dealer. This client has a combined arable and livestock farm, and wished to store water both for irrigation and as drinking water for the livestock. Two of the five installed tanks are used for crop irrigation, while the other three are used to store drinking water for the poultry/livestock at another location.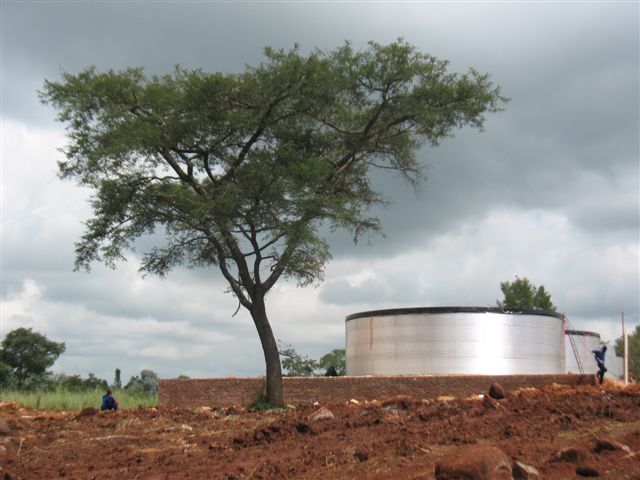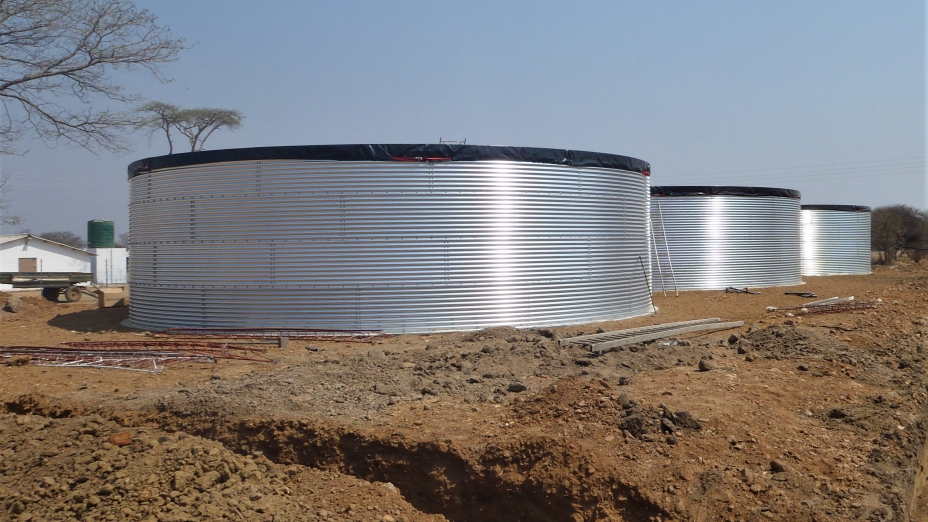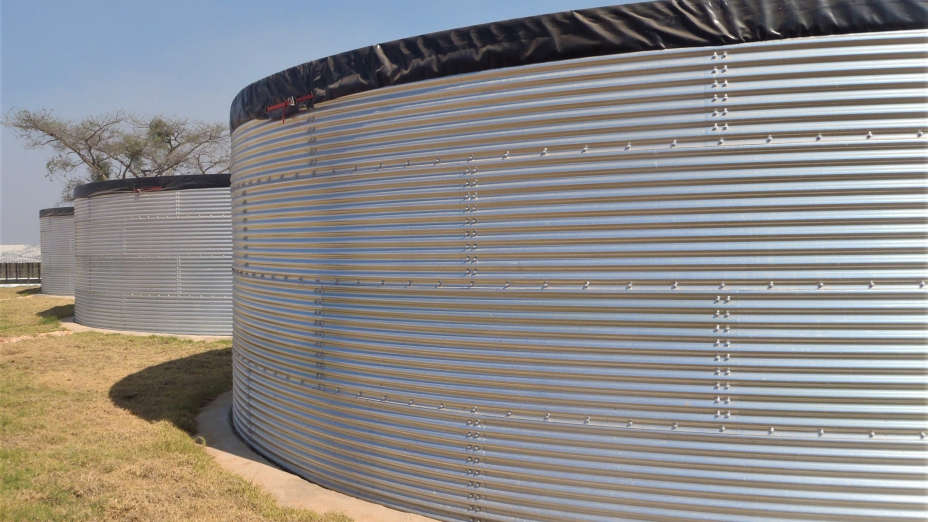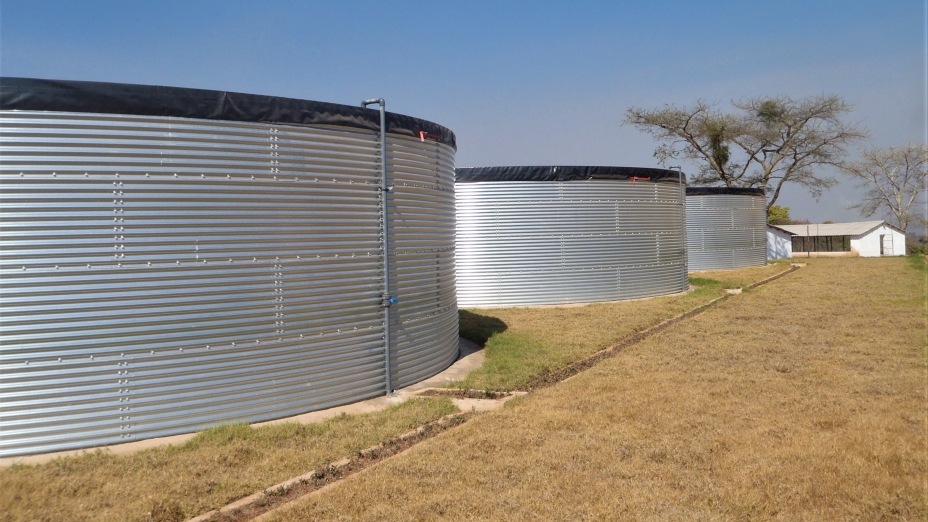 A Greek client was looking for a way of storing rainwater for their hydroponic growing systems, which are used to grow crops such as roses. The roofs of the greenhouses provide the farm with water. NPI supplied a water storage system to the grower. These tanks ensure the client has access to high-quality water for irrigation and cooling throughout the year!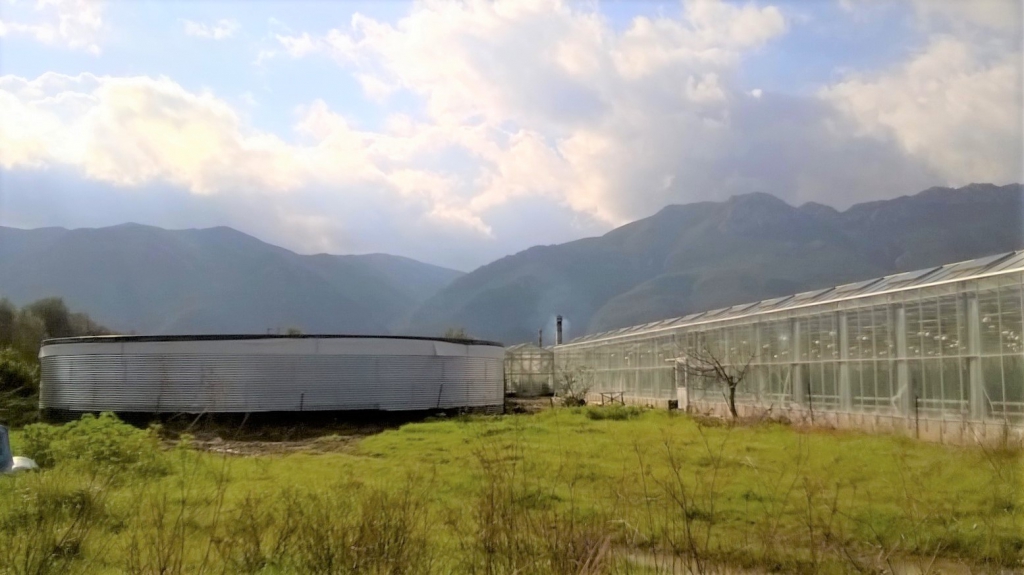 NPI's expertise in welding operations also comes into its own abroad. For example, during the past few years, NPI was involved with a phased project in Canada. Via a partner, NPI supplied film for three water basins and several metal water storage tanks for a major grower of shrubs, perennials and conifers.

Once the tanks and liners had crossed the Atlantic Ocean, our team flew in several times to monitor the installation on location. The 0.6 mm FPP film was rolled out in the basins and we installed bank protection and fittings. A cover sheet was also installed. This ensures that the water quality remains high and prevents contamination and evaporation.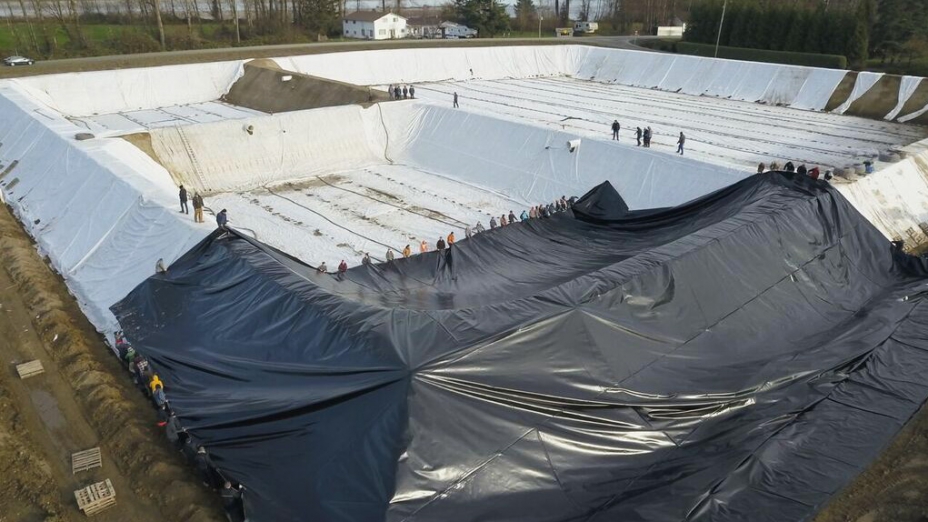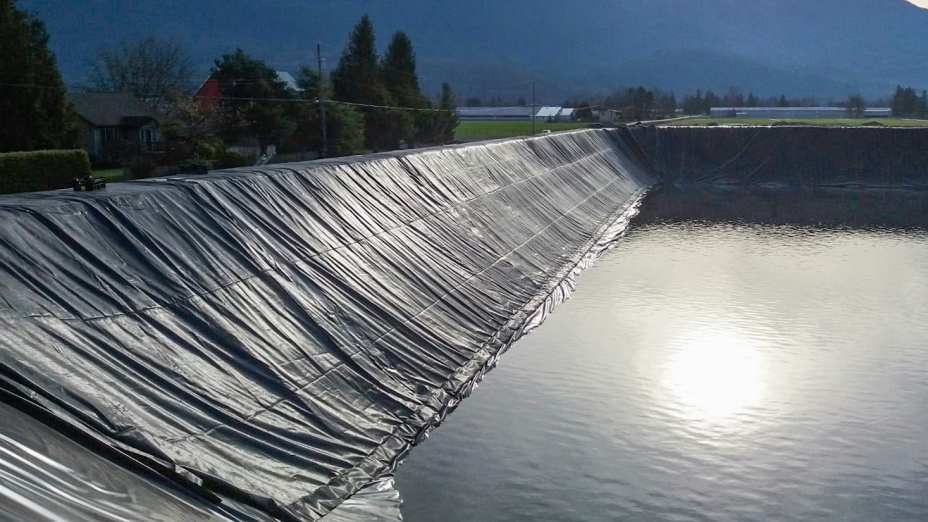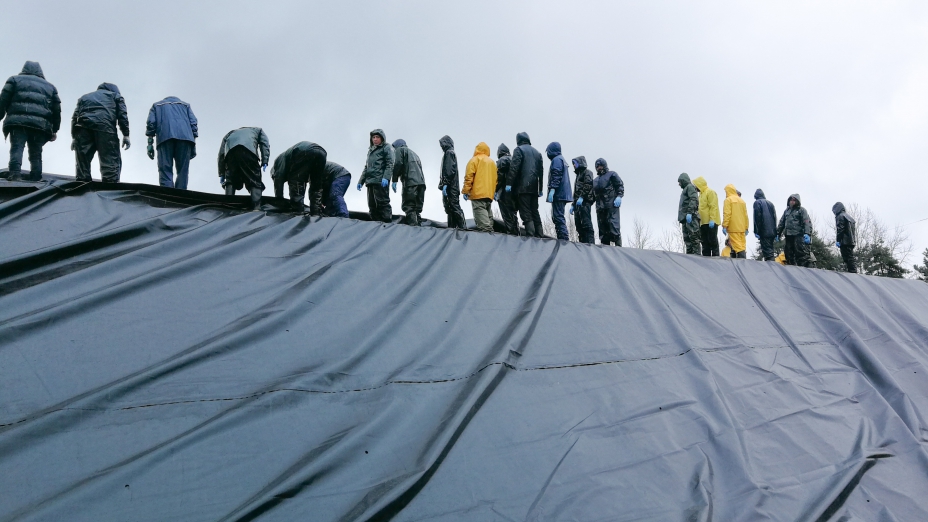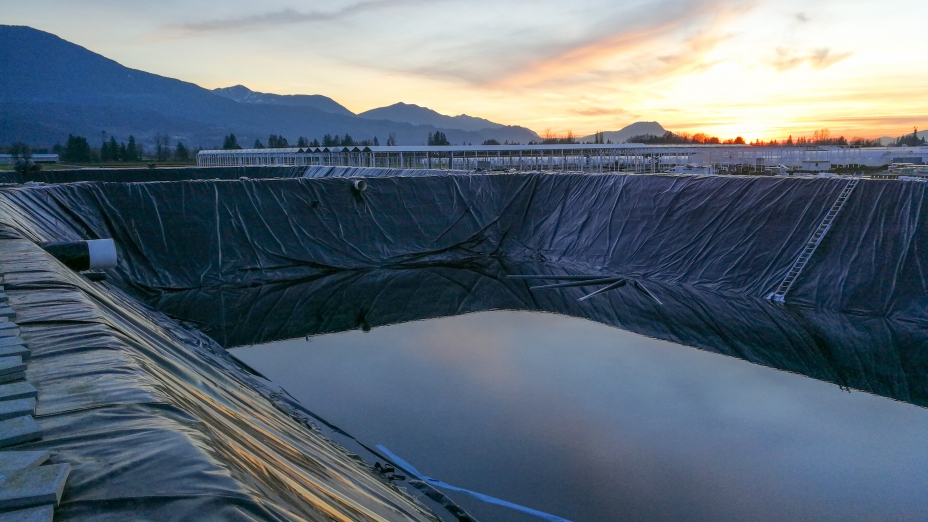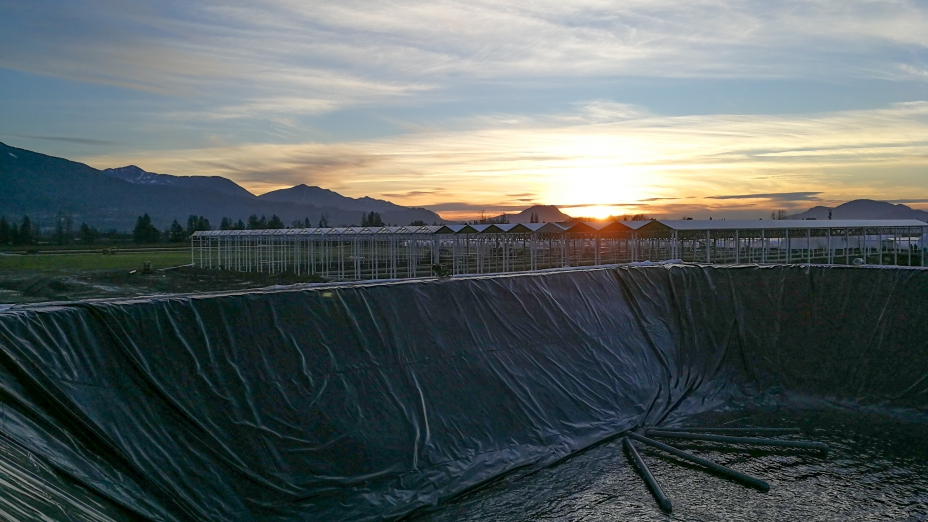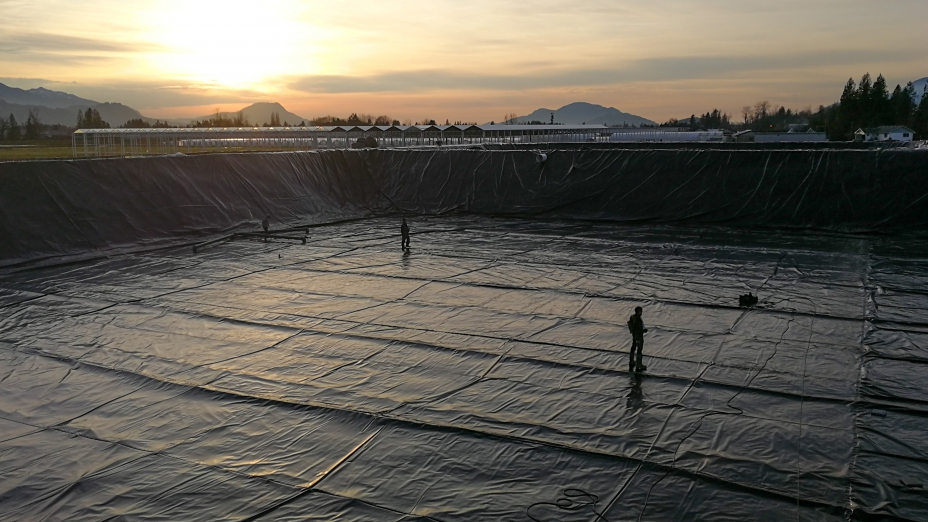 Via a partner in Russia, NPI supplied four tanks for a brand-new greenhouse complex in Western Russia. Our partner is a turnkey greenhouse builder, which means they specialise in integrating various components. Greenhouses are realised from A-Z. Of course, water storage is an essential part of this.

These four 16-metre tanks were constructed inside the greenhouses, as protection against the elements is very important in this region of Russia. The temperature falls well below freezing in the winter. The installation behind glass offers essential protection against frost and snow of several metres deep.

One of our specialists was on location during the initial phase of the installation to weld the fittings into place. If required, NPI can be involved in this way from start to finish: from design to production and installation.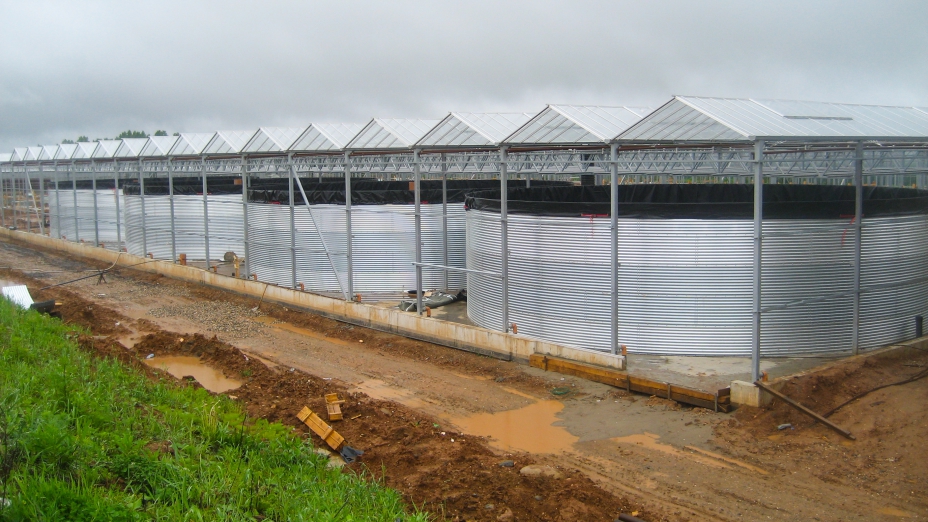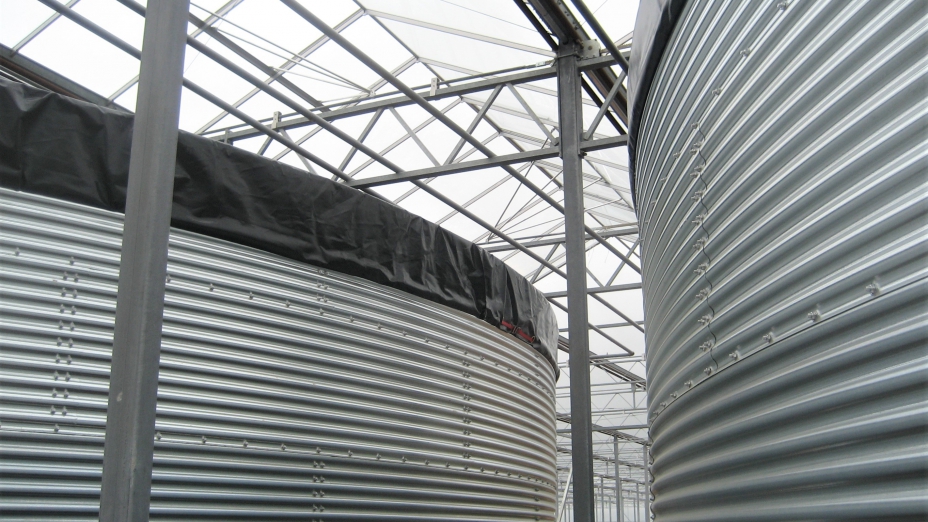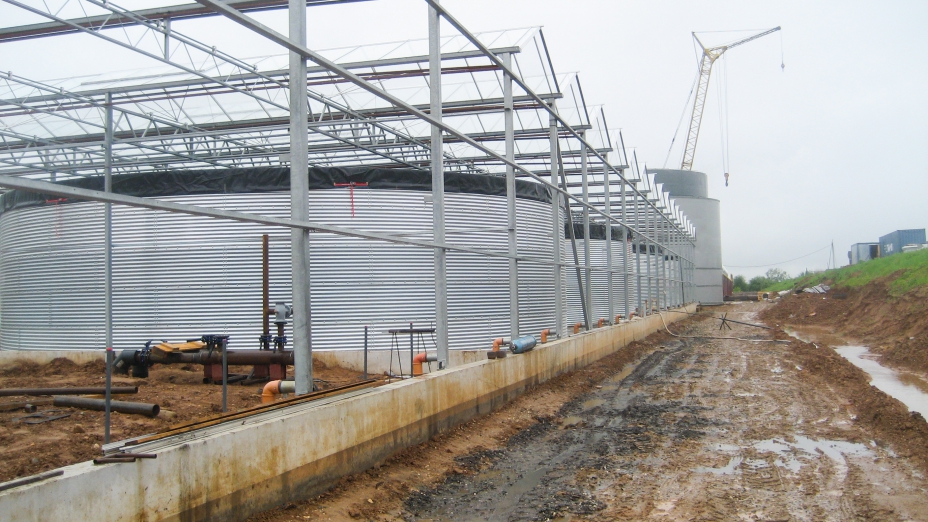 The hot summers of Southern Greece are unforgiving and are very tough on olive trees. The olives begin to ripen and require watering on a regular basis.
Via our dealer, we supplied metal water silos for installation at various locations in the remote hills of Laconia in Southern Greece. Combined with photovoltaic systems, the olive farmers can easily water the olive trees using the water tanks and store water close to the trees.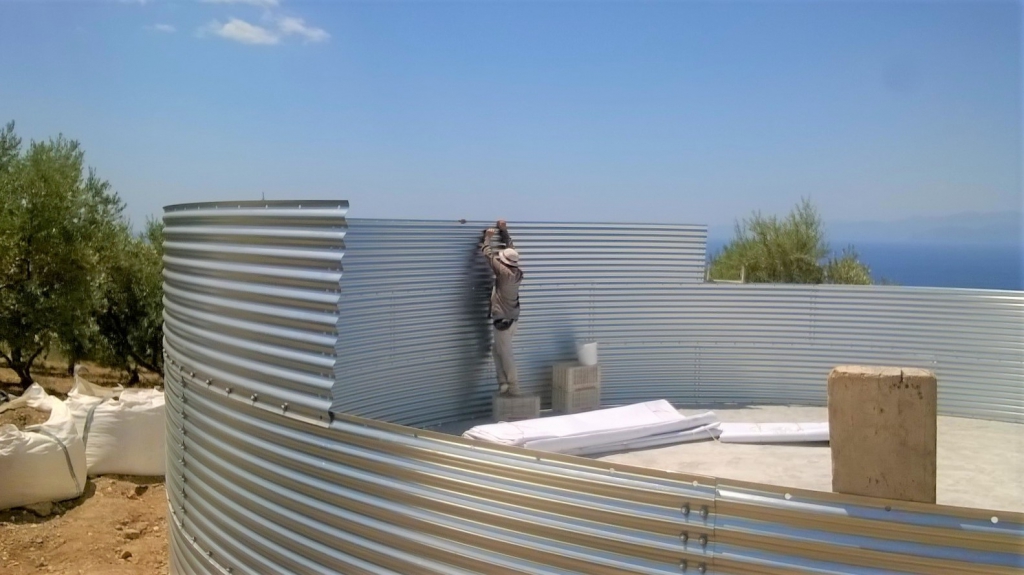 As a result of rapid economic growth and persistent droughts, Thailand is experiencing a growing demand for clean drinking water. Effective water management is essential, both in these periods of drought and to combat flooding. NPI has contributed to this by installing steel water silos.
Thaksin University set up a water saving programme, which involves being extra economical in the use of clean drinking water. In 2017, NPI supplied two water tanks to Thaksin University in Songkla to store this clean drinking water. These two tanks, of 18.21 metres x 3.81 metres, have a capacity of no less than 1,000 m3 each.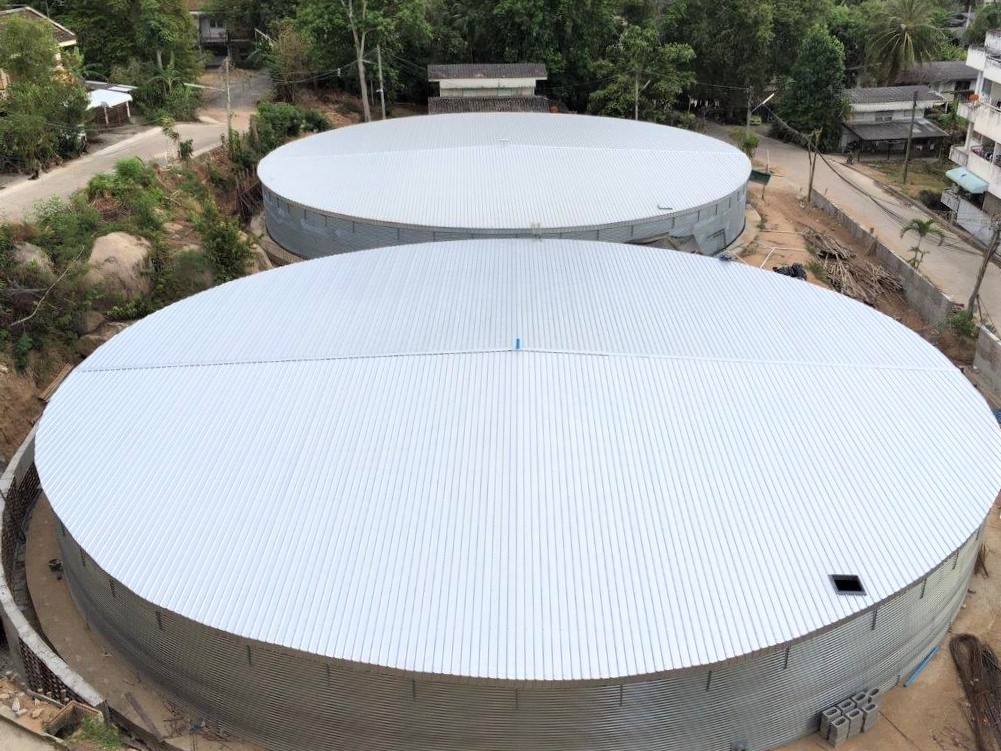 When a drinking water producer in Southern Cyprus was urgently looking for a temporary replacement for their production storage, NPI supplied three tanks in collaboration with a partner.

The prolonged drought in Cyprus during the past decade means that the available storage in reservoirs is inadequate. As a result, another solution was sought. This led to the construction of desalination plants. Here, seawater is purified to produce drinking water, which is subsequently transported to urban and tourist areas. In this way, a large part of Cyprus is provided with clean drinking water and is thus independent of rainfall. The material used for the liner, Enpex FPP, is the most commonly used material for coatings and is certified for drinking water.

The steel tank roof ensures that rainwater cannot enter the tank. It also prevents contamination, evaporation and algae growth. This is a good way of covering the tanks and ensuring that the drinking water remains safe and clean for as long as possible!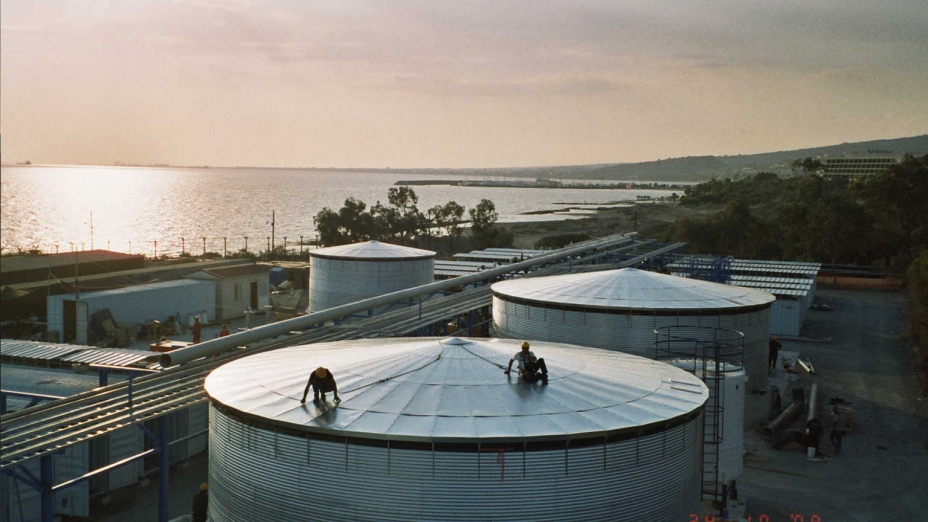 Aquaculture is an important market for NPI. One of our most important projects in this sector was a project in Nigeria, where we supplied 48 tanks for a tilapia farm. In fish farming, there is a great deal of work activity and splash water around the water tanks, which requires extra protection. Because of this, the lower rings of these tanks were coated and the minimum sheet thickness was 1 mm. The overlap of the liner over the edge was also extended to provide maximum protection against splash water and weather. The tanks were partially buried to provide the ideal working height from outside.
Our metal water tanks are often used in fish farms due to the many benefits they offer. These include cost reductions, simple installation, maintenance and durability. In addition, our tanks are resistant to high pressure with a minimum safety margin of 40%, which is absolutely essential in aquaculture. Finally, Enpex FPP, the most commonly used coating, is very durable and is not harmful to fish.
Visit our website at www.npiwaterstorage.com for more projects.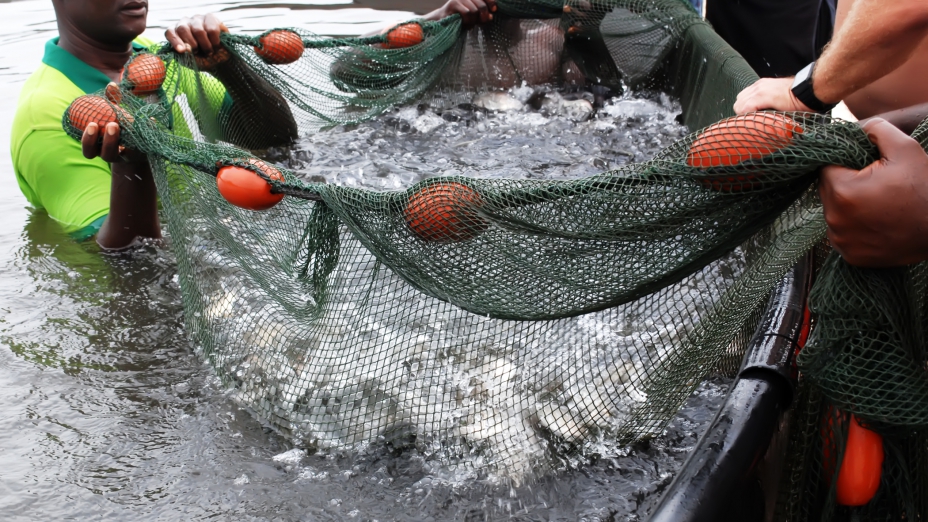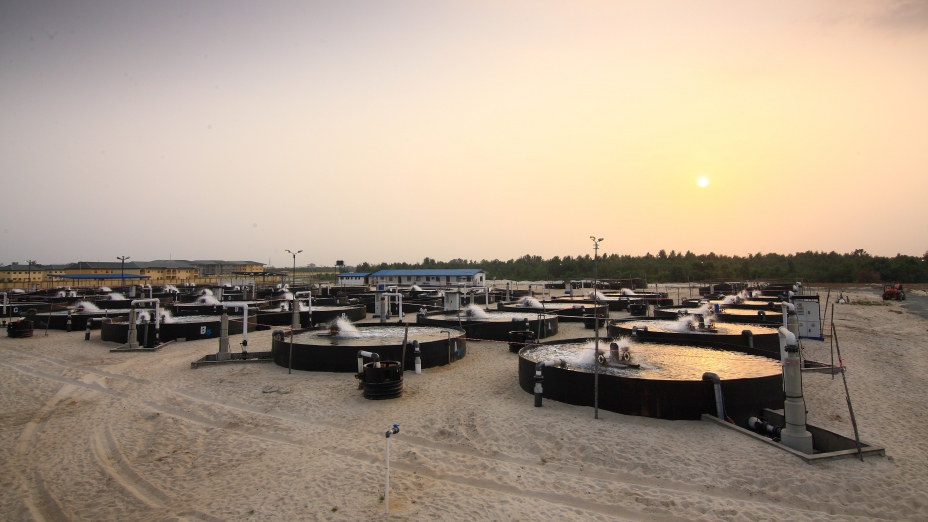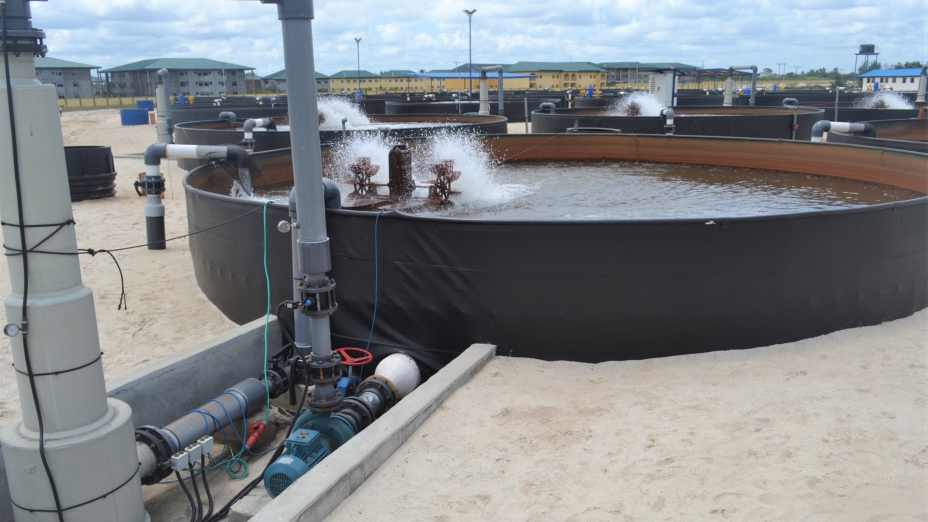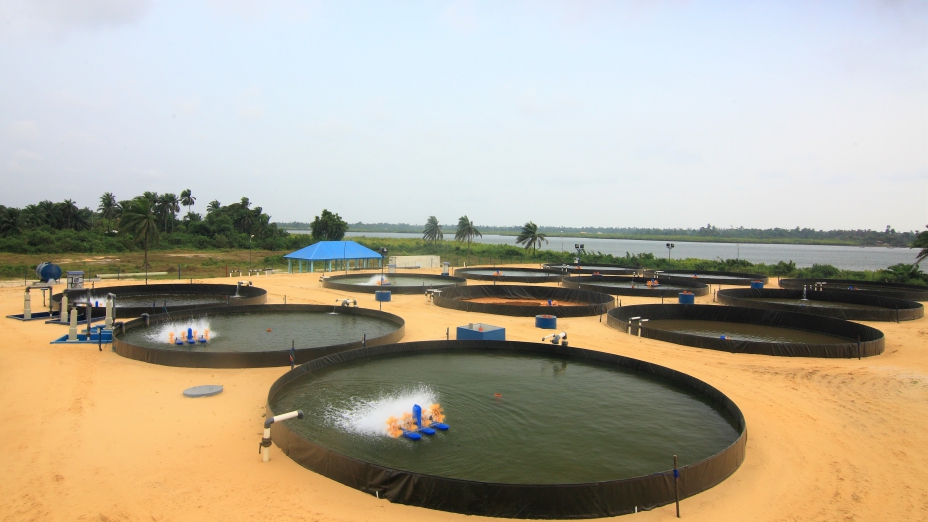 NPI recently supplied 88 steel silos for a new sturgeon farm on the Caspian Sea. The weather around the Caspian Sea is often unpredictable, with strong winds. Due to these climatic conditions and the high level of working activity in the area, tanks with extra reinforcement were desired.

Several shipments of steel and liner for this project were sent to Azerbaijan during 2018. NPI ships across the globe by land, sea and air freight. Via our network of reliable carriers, we can arrange quick and economical international transport. This always occurs in close consultation with our clients.

Once the shipment arrived, one of our staff travelled to Azerbaijan to assist with the installation on location.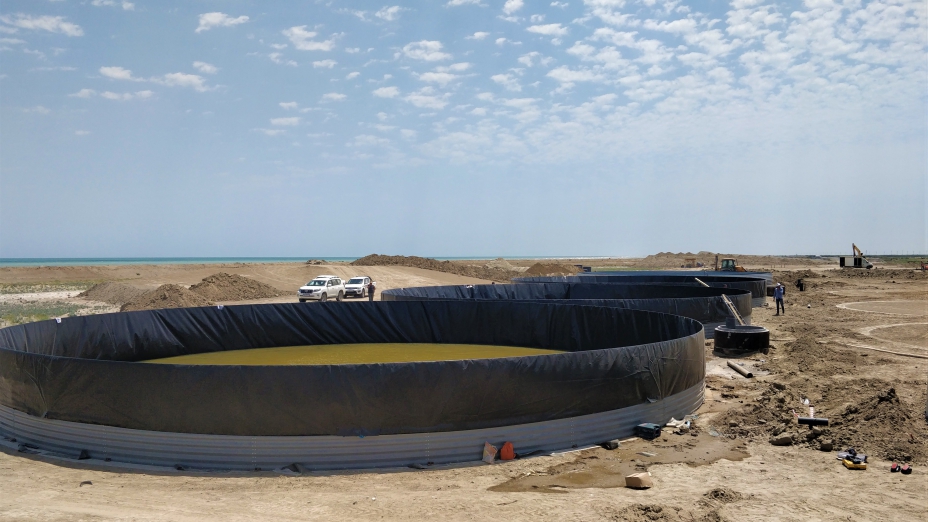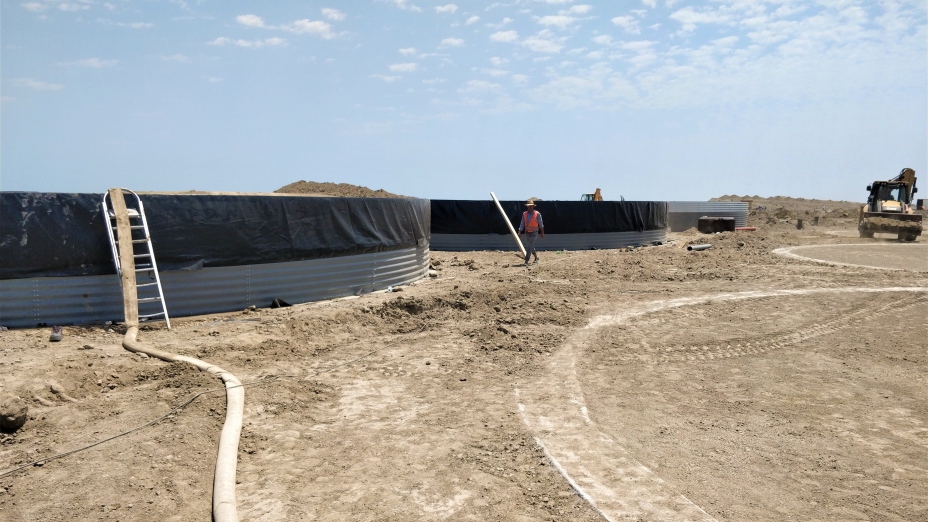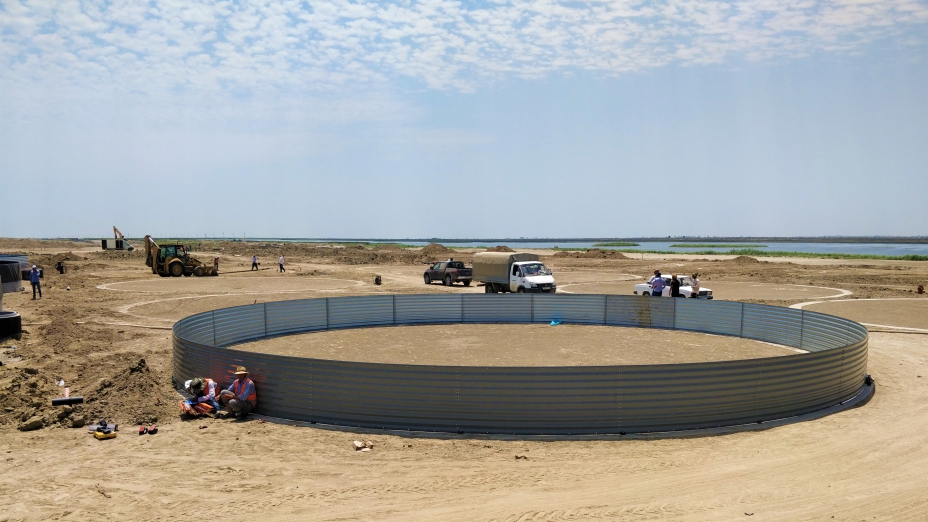 Via a partner, we supplied a demo tank for a major pilot greenhouse complex in Malaysia. In this demonstration environment, local authorities and universities carry out experiments and measurements that cannot normally be performed in practice. Water technology and storage is an important and indeed essential topic in this research project.

An interesting detail: the container with the tank components arrived at the local port very late. This meant that the installation became a race against time. Our installation team was able to complete the construction of the tank just before the arrival of the visiting delegation. The entire demo tank was set up in just an hour and a half. But it was a success! The demo tank was enthusiastically received and received a great deal of attention during various visits and tours of the pilot greenhouses.

This shows how easy it is to install our water storage tanks. Depending on the size, a tank can be assembled in a relatively short time. It can also be dismantled again if required. Of course, our experienced installers can supply you with advice and practical assistance if needed.

We have supplied a large number of tanks in Malaysia via this partner.