Applications and benefits
There are many applications for excavated water basins, from agriculture and horticulture to civil engineering projects, environmental and leisure projects. However, the same benefit applies to all excavated basin applications: the capacity to store large volumes of water. A summary of the benefits:
Easy to install in practically any location
High degree of flexibility in shape and size
Low investment cost per square metre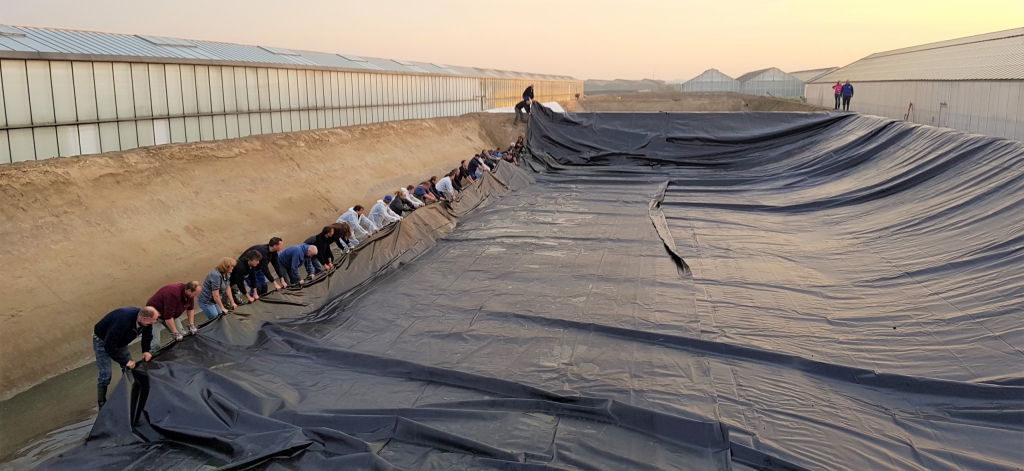 Film specialist
As one of the longest-established film processors, NPI specialises in the supply of basin films. The basin film type is determined by the subsurface, the type of water to be stored and the wishes of the end user.
Working method
We can produce bespoke LDPE, PVC and polypropylene films of up to around 5,000 m² in our production hall. These can be welded on location if required. If desired, our specialist assembly teams can survey the site, supervise the rolling out of the film, handle the welding on location, installing the bespoke outlets and installing embankment protection.
Embankment protection
For excavated basins in the horticulture sector, we advise protecting the side of the basin embankment with embankment protection. This protects the film on the embankment against UV light, wind, weeds and vermin. We also offer several options for covering the water basin. With a cover in place, algae cannot form, evaporation is prevented and leaves etc. cannot contaminate the basin. This ensures optimal water quality and prolongs the lifespan of the storage system!
Curious about the possibilities of film for water basins? We would be happy to advise you.